MLSCN & IHVN meet to strengthen NEQAL program
The Management of MLSCN and IHVN held a meeting on Tuesday, 30th of January 2018 at IHVN office in Abuja to review the progress made so far, as it relates to National External Quality Assurance Assessment Laboratory (NEQAL) at Saye – Zaria, Kaduna state.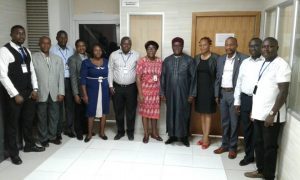 In attendance at the meeting were Mr. Tosan Erhabor (Ag. Registrar/CEO, MLSCN), Mrs. Oyebimpe Balogun (IHVN program Manager), Mr. Gregory Uchuno (Ag. HOD EQA/PT, MLSCN), Mrs. Idenobe Omokhudu (Grant Manager, IHVN), Mr. Abubakar Abdullahi (Program Manager, IHVN), Mr. Joshua Barde (NEQAL Lab Manager, MLSCN), Mr. Bitrus Tok (Senior Technical Advisor to NEQAL, IHVN) and Mr. Sam Peters (Director – Clinical Laboratory Services, IHVN).
During the meeting, critical issues were discussed and far reaching decisions were arrived at, towards strengthening the laboratory.