ERHABOR RECEIVES ASSOCIATION'S HERO AWARD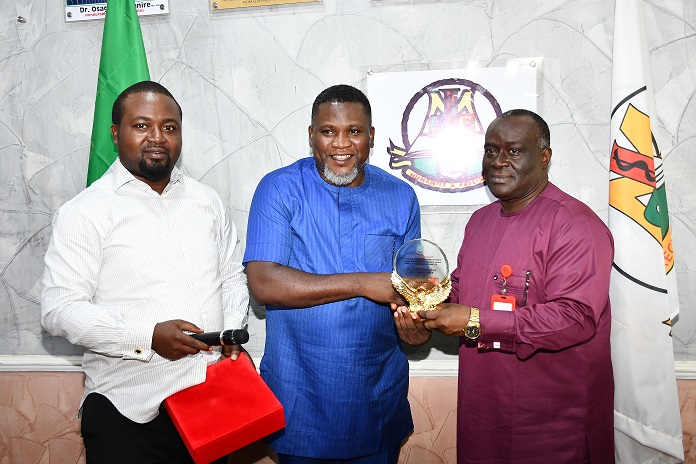 The Association of Medical Laboratory Scientists of Nigeria (AMLSN) FCT branch, on Thursday, September 8, 2022, presented the Hero Award to the Registrar/ CEO, Medical Laboratory Science Council (MLSCN), in Abuja. According to the Chairman of the branch, Dr Ironkwe Okechukwu who led his executive officers to the presentation, the award was in recognition of the invaluable contributions of the Erhabor – led MLSCN to the fight against the COVID – 19 pandemic.
According to the Chairman, the Council, drawing on its statutory mandate, proved to be a competent and dependable organ of government through the effective and timely validation of in – vitro diagnostics (IVDs) at the time thereby preventing the country from becoming a dumping ground for unwholesome COVID – 19 kits.
"We want to recognize your input, sense of leadership, and intellectual capacity that led to your intervention during the COVID – 19 era to the extent that any results that emerged from that intervention was accepted all over the world. We followed the news all through the lockdown and noticed that MLSCN was at the centre of the efforts, providing direction. You also provided training to build capacity for Medical Laboratory practitioners to cope with the situation. We cannot thank you enough, but we're proud of you, and we're here to present you an award for your heroism," he said.
While accepting the award which he dedicated to the members of his top management team, the Registrar said he did not initially understand why he was chosen for an award, but added that, having listened to the presentation of the Chairman of AMLSN, FCT, he was grateful for the honour.
Erhabor recalled how, during the COVID – 19 pandemic era, when the nation was on lockdown, the entire management team worked round the clock every day, to contribute to the fight against the pandemic. "In doing so, we thought it was the right thing to do given that Act 11, 2003 had given us the mandate to validate reagents, kits, consumables etc. We had to do whatever was necessary in the interest of the citizens. We had officers travelling by road from Abuja to Lagos at such a critical period, so as to get the job done, and those are the unsung heroes of the fight against COVID – 19. But it might interest you to note that throughout the period we did not receive any financial support from any quarters in support of our efforts. MLSCN did it all by herself despite her meagre resources," he said.