CARITAS FOUNDATION TO PARTNER MLSCN ON MEDICAL LABORATORY ACCREDITATION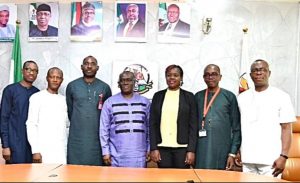 The Caritas Foundation Nigeria has expressed the desire to work with the Medical Laboratory Science Council of Nigeria (MLSCN) to scale up the quality of services rendered by the various medical laboratories under the Foundation. This was conveyed by a team of Medical Laboratory Scientists from the Foundation who paid a courtesy visit to the Registrar/CEO, Dr Tosan Erhabor to congratulate him on his re-appointment recently.
Geoffrey Onyenike, the team lead, who represented the Executive Secretary/CEO of the Foundation, Rev. Fr. Dr Uchechukwu Obodoechina, while noting the Council's transformation under the current administration, added that CCFN-managed laboratorieswere involved in MLSCN's External Quality Assurance (EQA) and Quality Management System(QMS) programs and ready to key into its accreditation process. "We see the great achievements under you, especially with respect to the External Quality Assurance program, In-Vitro Diagnostic Laboratory, and the Quality Management System, which gives us confidence in our practice," he said.
According to him, the Caritas Foundation currently manages four medical laboratories in Imo, Abia, Enugu etc. with funding from the US-CDC, which are already working towards accreditation. "But the issue of sustainability," he further noted, "is always at the front burner given that funding could sometimes dry up. So, we have to always keep sustainability in mind."
Responding, the Registrar assured the team of the Council's support to enable laboratories under the Caritas Foundation to leverage the MLSCN QualityTripod, including NEQAL, NaLECC, and the IVD Laboratory all of which are accredited to international standards. He urged the Foundation to work closely with MLSCN-National Laboratory Equipment Calibration Centre to optimize the performance of their equipment, assuring them that laboratories supported by CDC, including those under Caritas would go through the MLSCN accreditation process at a rebate.
SIGNED: MLSCN MANAGEMENT