MLSCN REGISTRAR'S LEADERSHIP QUALITIES EXTOLLED, AS HE WINS THOMAS SANKARA PRIZE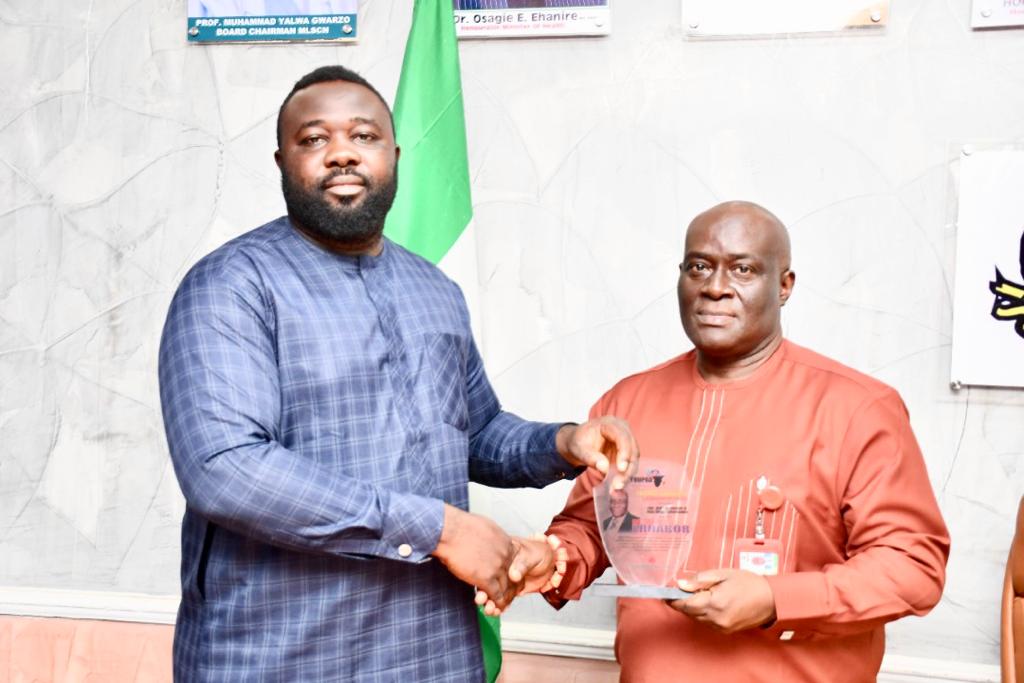 The Youth Partnership for Africa's Development (YouPAD), a pan-African youth organization with headquarters in Ghana, has extolled the leadership qualities of the Registrar/Chief Executive Officer, Medical Laboratory Science Council of Nigeria, Dr Tosan Erhabor, describing him as an inspiration to the younger generation. The remark was made by Comrade Couibally Bn Hameed, Ivory Coast national and leader of the organization, while presenting the Thomas Sankara Prize for Leadership Excellence to Dr Erhabor, in Abuja, recently.
According to him, the Thomas Sankara Prize was instituted in memory of one of Africa's illustrious sons, to appreciate the efforts Africans who distinguish themselves in leadership positions by running inclusive, transparent, effective administrations that recognize and inspire the younger generation. "As the Registrar/CEO of the Medical Laboratory Science Council of Nigeria, you have continually exhibited the above attributes and remained a role model to the youths of Africa. The Prize is meant to appreciate and encourage you to continue to do your best, as the continent needs leaders like you, and we're all proud of you," he said.
Responding, Dr Erhabor said he was humbled by the award, as he did not know what great thing he had accomplished to deserve such an honor. "As mere pencils in the hand of God, we're striving to contribute our quota towards the betterment of the society. We do what think is right, patriotic, and in the interest of the people, whose mandate we hold dearly. We do not even remember awards while performing our lawful duty. However, it feels good to be appreciated and honored, and this award would spur us to do even more for the benefit of the citizenry," he said.
The MLSCN Registrar/CEO has, therefore, joined other eminent Nigerians, including former Chief of Army Staff, Gen Tukur Buratai, Former Minister of Science and Technology, Dr Ogbonnaya Onu and a few others recipients of the coveted Prize.
Corporate Affairs Department
MLSCN